Chew Teck Seong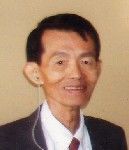 It is with deep sorrow and sadness the ITF inform you of the passing of Chew Teck Seong, who passed away on Friday 11th March.
Master Chew Teck Seong was both an honorable and respected Master. His Taekwon Do career resulted in him being recognised as a Taekwon Do Pioneer loyal to General Choi and his legacy.
The ITF humbly gives its appreciation to the great contribution Master Chew gave to ITF development and, with warmth, know Master Chew will be forever alive in all ITF members hearts and activities.