A personal message from President Choi Jung Hwa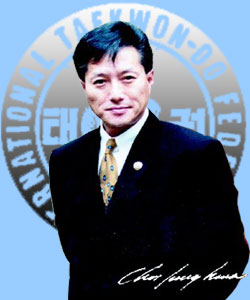 <!====[if gte mso 9]==> <!==[endif]====><!====[if gte mso 9]==> <!==[endif]====><!====[if gte mso 9]==> <!==[endif]====><!====[if gte mso 10]==> <!==[endif]====>
On behalf of my Family and the ITF, the staff and I would like to thank all distinguished guests, elders, masters and members for attending my Father and Founder of Taekwon-Do, General Choi Hong Hi's 100th Birthday.
It is a duty for the son to commerate Father's coming to this world but I was indeed overjoyed and grateful for your overwhelming love and dedication to him, even many years after his passing.
I appreciate the support you give to The ITF and your trust in me.
You are the impetus and powerful motivation for me to go on energetically.
I also appreciate work well done by Mr. Troy Elbei, Masters Michelle Demers and Parm Rai.
God Bless All of You.
Taekwon.
CHOI JUNG HWA