Argentina Tournament qualifying Process for World Championship
View all articles


<!======[endif]========>

On September 20, it was held in the Club Nautico of Rosario, the second qualifier trial for the World Taekwon-do ITF Championship that will take place between 26 and 31 July 2016 in Brighton, England. The qualifying for the categories Pre Juniors, Juniors, Adults and Seniors.

About 200 competitors arriving from across the country and took part in the event, which as expected had a superlative level, being the best national exponents faced looking for a place for the top event of Taekwon-do ITF worldwide.

It is to emphasize that the majority of the categories are open, there are still the National Championship to be held next December 13 that will give points and the last tournament selection to qualify that will be held in April 2016.

Competitors in sparring that are almost one step for the Worlds:

Lucas Ferrari, Gastón Oriente, Gabriel Palazzo, Iván Zacarías, Camila Cinalli, Leticia Iriarte y Bárbara Gadea.

The event was attended by the highest authorities of the Argentina Taekwon-do Federation: President Master Ebel Barat, Secretary Master Jose Maidana and the chairman of Tournament & Umpire Committee of ITF GM Nestor Galarraga. On that opportunity officially introduce the Official coaches to lead our teams in England. The coaches of the Adult team will be Master Gabriel Cova, Master Pablo Beorlegui and Instructor Gerardo Rocha, while the Juniors team will be in charge of instructors German Bianchi and Luis Stoisa.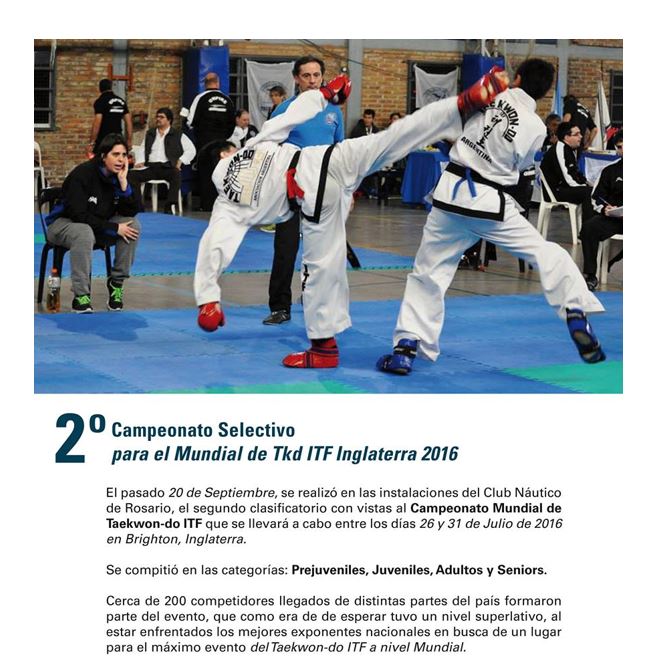 <!========[if gte mso 9]======>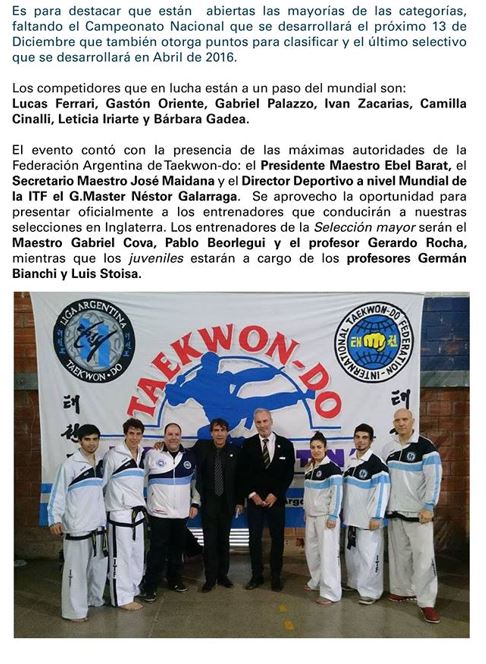 <!======[endif]========><!========[if gte mso 9]======> <!======[endif]========><!========[if gte mso 10]======> <!======[endif]========>

Written by: Federacion ITF de Argentina (INO #56) - 24th September 2015

Sorry, but you need to login to your ITF-Administration account to add feedback.
Login now, or if you are not a member then apply to join here