Photo Gallery
Click to view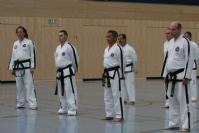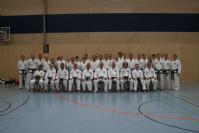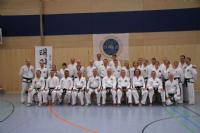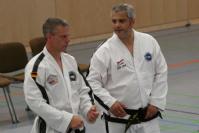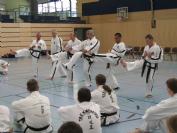 Two Day Master Class in Germany with Master Nicholls
View all articles

Comments: 2
Two Day Master Class mit MasterTrevor Nicholls

in Gerlingen / Germany

Finally, after more than five years, it was reached again and can said to be one of the highlights for our association existing for only two years.
A Master Class over two days with Master Trevor Nicholls VIII.Dan from England. He was accompanied by Master Steve Zondag from the Netherlands, Master Malcolm Jaones from England as well as Mr. Yogi Chand from England as assistants.

Master Nicholls arrived Friday and was met at the airport by Olaf Brämer and Event Manager Anastasia Alexiandridou. In the evening there was a dinner together with the managing committee and the persons responsible of Teakwon-Do Germany.

Participants arrived from England, Ireland, Wales, The Netherlands, Czech Republic, Switzerland and Germany.

The first day was for the Color- and Black-belts, and about 50 participants had the opportunity to train technics in a higher practice, too. It was started with Tong II. At first the form was executed by the relevant graduations with commands. Thereafter all participants could exercise certain technics from this Tul. Thus it went on up to Yong Gae.
Some foot-practices where discussed in detail, and all questions were answered in great detail.

Day's end was at 5:00 p.m. after 7 hours training. It was a straining day for all.
In the evening it was invited to a dinner in a typically Swabian restaurant, which all participants enjoyed very much.

The second day was similar with the difference that only the Blackbelts were admitted. About 35 Blackbelts seized the chance and trained techniques and forms from Choi Yong to Chon Ji.
The day was finished at 3.00h p.m. after 5 hours of intensive training. However, everyone could see that the participants had reached their upper limit.

In the evening some participants visited the city of Stuttgart and on Monday-morning Master Nicholls returned to England.

We thank all participants, and especially those who accepted a long journey for training together with us.

We hope for the next time.
Written by: Public Relations - 12th July 2011
[Comments: 2]
Sorry, but you need to login to your ITF-Administration account to add feedback.
Login now, or if you are not a member then apply to join here
Article Feedback:
Jan Prochazka (Czech Taekwon-Do Association) : 15th July 2011, 09:54

On behalf of Mr. Macek and all Czech participants, I would like to congratulate and thank to Mr. Brämer for organizing such excellent seminar with rich technical content but also for friendly reception and pleasant atmosphere.
Bob Borja (Taekwon-do Central) : 15th July 2011, 08:37

Excellent seminar in content and organization. Well attended by other countries. Much thanks to Mr. Brämer and TKD-Deustchland for bringing such caliber instruction to Germany.