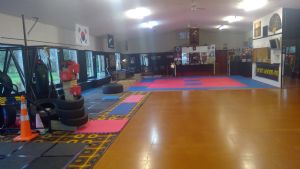 Name
United ITF Taekwon-Do New Zealand (uniteditfnz)
Address
644 Main Road North
Temarua
Upper Hutt
Wellington
5018
NZ
Contact Details
Contact person
Blair Martin
Email Address
blair@uniteditfnz.org
Telephone
0211853994
Fax
Find us on Facebook
Website
http://www.uniteditfnz.org
Officials
President
Blair Martin
Vice President
NA
Secretary
NA
Treasurer
NA
Profile
UNITED ITF SCHOOLS OF
NEW ZEALAND
United ITFNZ roots come from the leadership of Mr Blair Martin with over 30 years of continuous Taekwon-Do experience. Mr Martin started Taekwon-Do in Fielding New Zealand as a 7 year old boy in the early 80's. After moving to Palmerston North in the mid 80's, Mr Martin linked up with a club who was under the international leadership of Master Yun and national body, International Taekwon-Do Foundation of New Zealand. After Graduating to 1st degree black belt in 1992 Mr Martin moved to Upper Hutt, Wellington, New Zealand. Upon arriving to Upper Hutt he found there were no Taekwon-Do Clubs under his original national body, then ITFNZ.
This is the time where Mr Martin was introduced to Mr Harry Hemana, 5th Degree black belt and founder of south pacific Taekwon-Do New Zealand, whom was one of New Zealand's pioneers of Taekwon-Do. Mr Hemana was a very humble man. Mr Hemana fought for NZ in the Vietnam war and was well known as the drill Sergeant. Mr Hemana's club at the time was Rimutaka Taekwon-Do Club.

Upper Hutt's Harry Hemana, was one of the top instructors of Taekwon-Do in New Zealand, and he was awarded the International Star of Excellence by the founder. Hemana became one of only two New Zealanders to have received the star when he travelled to Hungary to accept it from General Choi Hong Hi. He said General Choi passed on concerns about unqualified instructors teaching the sport he founded. With more than 30 years of Taekwon-Do experience, Hemana was asked by General Choi to "clean up" the art in New Zealand on behalf of the International Taekwon-Do Federation (ITF).
"I know that I must clean out my own backyard before looking any further", Hemana said.

Due to age and illness Mr Hemana looked to Mr Martin at the age of 19 to take over the running of his club with its existing members. The club was renamed and re founded as United Taekwon-Do in 1992, and the new journey had began.

Mr Martin was privileged enough to become a close friend in both Taekwon-Do and personal life with Mr Hemana. During the 10 years of working together Mr Hemana and Mr Martin built some very strong relationships with many different martial arts organisations both in NZ and internationally. Work was under way with the alliance with Master Muleta from Austraila. Due to the passing of Mr Hemana this work remained incomplete. Before Mr Hemana's passing the clubs were drawn back under the governance of ITFNZ and remained so, until 2012 when Mr Martin had decided that after 30 years his Taekwon-Do journey was not over, and he was committed to carrying out the work of Mr Hemana to ensure New Zealanders have the right to be associated with the roots of Taekwon-Do.