ITF Senior Promotion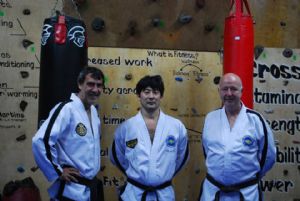 On the 22nd day of November at Fit Factory Gym in Rio de Janeiro – Brazil, the ITF conduced the test to Master's category - VII degree black belt of Mr Edimir Kawakubo – ITF BRASIL INO # 111 president.
The examination lasted approximately two hours and was conducted by Grand Master Nestor Galarraga -. IX Dan and the Senior Master Mario Troiano - VIII Dan.
Before starting the examination the Grand Master Galarraga explained the importance of this graduation and how it should be granted considering the requirements to be present at this examination.
The test started with questions about general knowledge and were discussed philosophical, historical and technical topics. Mr Kawakubo was requested to execute 8 Patterns, Self Defense, one step sparring, Fighting, technical analysis of the various application possibilities of lateral and circular kicks, with correlating attack against appropriate angles and distances and performance techniques with spin and jump.
At the end of the test the examiners have made some considerations regarding the testing and about Mr Kawakubo, then congratulating the new member of the ITF's masters family.