Remembering our Founder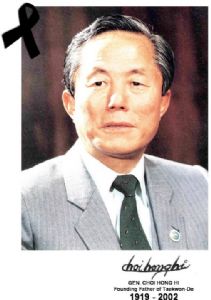 Today marks the 13th anniversary of the passing of our later Founder of Taekwon-Do, Gen Choi Hong Hi. Although he is not with us physically, he is with us spiritually and watching all of us continuing to do what he was us to – being ambassadors and promoting his beautiful art.
Through his son, President Choi Jung Hwa, we continue the legacy of Taekwon-Do and are reminded of our Founder's teachings. President Choi continues his Father's legacy through his hard work and dedication to his Father's Taekwon-Do lest we forget what Gen Choi made for us, and ensures we pass on this beautiful art to many generations to come.