IIC and Taekwon-Do 60th Birthday Celebrations in Canada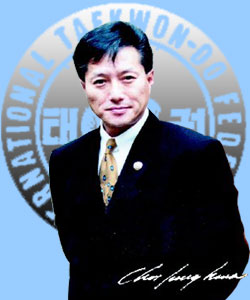 I would like to extend my personal thanks to Master Parm Rai, together with those of my family and all ITF members for the wonderful seminar and birthday celebrations held in Canada on the 60th anniversary of Taekwon-Do. I appreciate and applaud the enormous effort that goes into preparations for an event that comes to such positive fruition.
My gratitude to the many members who came from all corners of the world to make these events so successful. It was indeed a truly fitting occasion to honour past achievements, enjoy our part, and look with positivity and anticipation to the future.
Much appreciation to my family who, despite Mother's condition, were all there to celebrate with our ITF members the great Taekwon-Do our Father created 60 years ago.
I acknowledge and thank those around the world who also celebrated this moment in the history of Taekwon-Do.
Taekwon
Choi Jung Hwa