Photo Gallery
Click to view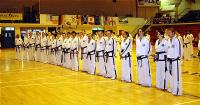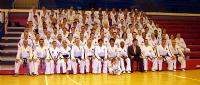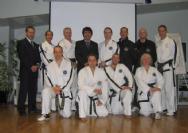 Master Galaragga conducts Masterclass and ITF Umpire Course in Ireland
View all articles


The Irish United Taekwon-Do Federation (IUTF) had the honour of hosting the Head of the ITF Umpire Committee, Master Nestor Galarraga, VIII Dan, at the end of November in Cork City. Master Galarraga first conducted a special seminar on sparring, which was attended by well over 100 black belts. The Master Class covered some of the sparring aspects which have become the hall mark of the top Argentinean competitors which have graced the world stage over the last 20 years. He delighted and relaxed the participants with his friendly approach throughout. In attendance were many V and VI degrees and they were led by Master Iaasac Harry who demonstrated great speed and poise during the course. Master Galarraga remarked how it was a pleasure to see a Master still working hard during such an event and complemented Master Harry on his technique. Master Galarraga was aided by one of the Argentinean legends of the tournament circuit Mr. Ricardo Rieiro who won four World Championship medals, the pinnacle being in Malaysia, 1994, when he defeated ITF great Mr. Paul Germain on the way to gold in the -71kg category. To see Master Galarraga and Mr. Rieiro demonstrate the attack and counter attack was like watching a beautiful performance of the tango by two long time partners. The crowd showed their appreciation with a rapturous applause afterwards.
The following two days were dedicated purely to the ITF Umpire/Referee Course. This was held in the fantastic new University College Cork "Mardyke Arena" which will host next year's International Irish Championships in November. The ITF certified course covered every aspect of the competition curriculum, ranging from referee to umpire to jury president. He relaxed the participants from the onset and they had the opportunity to pick the brains of one of the world's most knowledgeable Masters with numerous probing questions. According to the IUTF President Mr. Don Dalton VI, "This was the 4th time that I have completed this course in the last two years and I still have learned as much this time as the first one in Argentina. Master Galarraga has a wealth of knowledge and we are honoured to have this chance to learn from him. We were left longing for more after the two days were over but we look foreword to seeing him again in our country next year."
Written by: Shane Fitzgibbon - 6th March 2007

Sorry, but you need to login to your ITF-Administration account to add feedback.
Login now, or if you are not a member then apply to join here