Photo Gallery
Click to view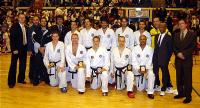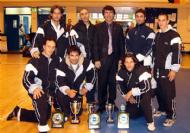 The International Irish Championships, Cork City
View all articles


This year's International Irish Championships was organised by the Irish United Taekwon-Do Federation (IUTF) and it proved to be Ireland's largest Taekwon-Do competition ever with over 700 entrants. The event has become one of the premier annual competitions on the European calendar which a huge foreign contingent now regularly attending each year. The 2006 International Irish Championships was honoured to have Master Nestor Galarrara in attendance as well as Master Wolf,&nbsp Master Harry, Master Hogan (and their students) and numerous international guests and friends from around Europe. All of the Masters were of tremendous help to the event and they worked tirelessly throughout. The following countries were in attendance: Ireland, Northern Ireland,&nbsp England, Scotland, Spain, Holland, Belgium, Germany and Argentina. It was the first time that competitors entered from Spain and Argentina. The event was supported by long time friends such as Mr. Toni Martella (NAG), Ms. Barbera Siruit (ITF Belgium), Mr. Patrick McCarthy (IUTF England), Master Gayle/Master Ogbourne/Mr. Bradshaw (PUMA), Mr. Tony Sewell (GTI). The largest support in Ireland came from Great Southern Taekwon-Do (Mr. Buckley), Focus Taekwon-Do (Mr. Boltan) and East Coast Taekwon-Do (Mr. McCabe/Mr. Whelan).
The black belt sparring sections were full with top class competitors and this was personified by the -71kg section which had 25 competitors (19 from outside of Ireland!). According to referee Mr. Riordan "the standard in the -71kg black belt sparring was excellent. There were at least 8 entrants who will be serious contenders for a medal in next year's world championships." The section was won by Mr. Dave Pixton of PUMA (England) who beat last year's champion Mr. Josh Atiya Alla also of PUMA in the final. Mr. Ariel Alemanno of Argentina came third. The men's -54kg section ended as a 1, 2, 3 for the IUTF (with Mr. James Stack in first place) while Mr. Michael Belle of Master Wolf Academies won the -63kg sparring. Tim Kool of Holland (Mr. Kwant Dojang) was the only male to retain his title from last year winning in the -80kg section. The +80kg division was a repeat of the European Championships final between Mr. Sean Keane of Ireland (IUTF) and Mr. Richard Belle of England (Master Wolf Academies). The European Champion Mr. Keane won again on this occasion and third place went to Mr. Daniel Modarelli of Argentina In the male black belt tul three medals went to Argentina (1 gold, 1 silver and 1 bronze), three to Ireland ( 1 silver, 2 bronze), two to England (1 gold, 1 bronze) and one gold to Spain. The male IV Dan section had 12 entrants with the final being won by Mr. Christian Oriolani (Spain). Silver went to Mr. Ariel Alemanno (Argentina).
In the ladies -52kg sparring Ms. Lucy Wolf of England won first place to add to her title from two years ago. Ms. Valesca Den Boer (ITF Belgium) beat Ms. Janice Connolly of Ireland in the -58kg final. The -64kg section had 13 competitors After some hard fought bouts there was an all English semi final between Ms. Stacey Weatherer and Ms. Emma Deakin (both of PUMA). The other semi final was an all Irish affair. This was a great battle between the current -58kg European Champion and current Junior World Champion from Korea, Ms. Claire O' Sullivan (IUTF) and the current -64kg European champion Ms. Aoife Foley (IUTF). Unfortunately the bout ended prematurely due to a severe clash of heads which resulted in both competitors requiring stitches.&nbsp Ms. Weatherer prevailed in the other bout making her the champion. Ms. Weatherer was also champion in 2005 and 2003. The +64kg section was an all Ireland final between Ms. Moira McElligott and Ms. Kathy Dunne in a repeat of last years final. In the end Ms. Dunne succeeded in winning her third title in this weight category. Ms. Annemarie Rooney of England won the ladies I and II Dan patterns while Ms. Janice Connolly of Pyong Hwa Taekwon Do, Ireland won the III and IV section.
The Celtic Team Cup
The Celtic Team Cup was one of the highlights of the weekend. The ladies team event was again won by the very strong PUMA team which is reigning supreme in Europe at the moment. The IUTF (Ireland) team came second. The men's event had seven international teams. The first semi final was between IUTF (Ireland) and PUMA (England) The experienced IUTF team succeeded in reaching the final where they met team Holland, who had won a close battle in the other semi against Master Wolf Academies. Team Ireland had huge support from the&nbsp 2,500+ spectators in attendance. They defeated their Dutch opponents and thus retained the Cup from 2005.
The 3rd Intercontinental Cup
The 3rd Intercontinental Cup followed the final of the Celtic Team Cup. Team Europe was particularly strong featuring the current European Hyperweight gold and silver medallists (Mr. Keane and Mr. Belle). The current European Middleweight champion (Mr. Quemby) and the current World silver medallist from Korea (Mr. Kool). The team was captained by Mr. Fitzgibbon from Ireland. This was the third instalment of this competition. The first was held in Buenos Aires, Argentina and the second was in Lagos, Nigeria. The Americas team had difficulty with the weight advantage of the European team who were backed by the partisan home crowd throughout. Mr. Quemby was particularly impressive in his bout. His opponent was unable to continue after a picture perfect Dollyo Chagi landed flush on the chin early in the bout. In the end the victory went to Team Europe, thus avenging last year's loss in Argentina Team Europe Coach, Mr. Don Dalton, VI, would like to thank Mr. Jan Kwant of Holland for helping with the overall coaching of the winning European Team. He said "I would like to thank all the competitors who attended this year's event. It was truly historic due to the presence of Master Galarraga (Head of the ITF Umpire/Referee Committee). Master Galarraga has offered great advice on how to improve our competition and we will be endeavouring to implement many new ideas for next year. I would also like to thank all the officials who worked tirelessly over the weekend and especially the main organiser Mrs. Dalton. We now have a true family feeling to a serious international event and this makes the weekend even more special. As an organiser there is always room for improvement and we look foreword to continuously improving the event in the years ahead."
The colour belt competition with 521 competitors was finished at , again demonstrating the efficiency of the International Irish Championships! Next years competition is scheduled for the middle of November. Contact Mr. Dalton at iutf@hotmail.com for details. The next Intercontinental Cup will be on March 6th in Accra, Ghana, which will also be celebrating the 50th Anniversary of Ghanaian independence.
Black Belt Matsogi:
Male -54kg:
James Stack (Ireland)
Eoin O' Muinneachain (Ireland)

Tomas Crotty

(Ireland)
Male -63kg:
Michael Belle (England)

Winojj Ramsoebagh (Holland)

Aristides Palopoli (Argentina)
Male -71kg:
Dave Pixton (England)

Josh Atiya Alla (England)

Ariel Alemanno (Argentina)
Male -80kg:
Tim Kool (Holland)

Kirk Stephens (England)

David O' Sullivan (Ireland)
Male +80kg:
Sean Keane (Ireland)

Richard Belle (England)

Daniel Modarelli (Argentina)
Ladies -52kg
Lucy Wolf (England)
Nicole Jarvis (England)
Mary Manion (Ireland)
Ladies -58kg
Valesca Den Boer (Belgium)
Janice Connolly (Ireland)
Carla Dunne (England)
Ladies -64kg
Stacey Weatherer (England)
Emma Deakin (England)
C. O'Sullivan/A. Foley (Ireland)
Ladies +64kg
Kathy Dunne (Ireland)

Moira McElligott

(Ireland)

Rebecca Dearlove (England)
TUL:
Male I Dan:
Chris Quemby (England)
Steffan Fusco (Ireland)
Jamaine Hemmings (England)
Male II and III Dan:
Ezequal Unzien (Argentina)
Gerardo Foigelman (Argentina)
Diarmuid McSweeney (Ireland)
Male IV Dan:
Christian Oriolani (Spain)
Ariel Alemanno (Argentina)
Graham Connolly (Ireland)
Female I and II Dan
Annmarie Rooney (England)
Valesca Den Boer (Belgium)
Claire O' Sullivan (Ireland)
Female III and IV Dan:
Janice Connolly (Ireland)
Rebecca Dearlove (England)
Mary Mannion (Ireland)
Written by: Shane Fitzgibbon, ITF Ireland - 7th February 2007

Sorry, but you need to login to your ITF-Administration account to add feedback.
Login now, or if you are not a member then apply to join here