Photo Gallery
Click to view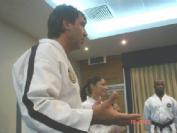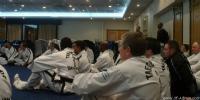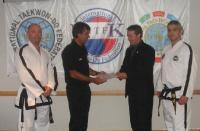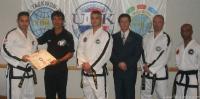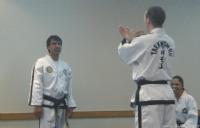 On the 17th, 18th and 19th of February 2006 Master Nester Galarraga lead an International Umpires Seminar in London, United Kingdom.

Over 50 participants travelled to participate including Master Nicholls VIII, Master Hogan VII, Master Wolf VII, Master Harry VII on the new ITF International Umpires course, which included an examinable element in order to be awarded the qualification and designation of "ITF International Umpire". An encouraging sight to see so many high ranking Masters in Dobok still willing to learn and improve their own education and knowledge.

The course covers all aspects of tournaments procedures, including the requirement that participants perform Taekwon–do patterns to demonstrate that they have the knowledge and technical ability to score them in competition. Administrative procedures have also been included, addressing issues such as how to create tournament brackets, and general event management. Particularly enjoyable but a little off topic
was when Master Galarraga broke the ice with some self defence examples having everybody tapping out.

The course was concluded with a question and answer section, with Master Galarraga asking various students to demonstrate aspects learned through out the weekend.


On behalf of UKITF we would like to thank Master Galarraga and Mr Fernando Perez for the time and continuing support through out the course. Also the UKITF Masters who were in attendance. Once again proving we are constantly working to ensure our members are receiving the best possible tuition from our Instructors, and remain dedicated to continual growth and support through learning and training together in the art of Taekwon-Do.

UK-ITF representing

TEAM

UK
Written by: UKITF - 22nd February 2006

Sorry, but you need to login to your ITF-Administration account to add feedback.
Login now, or if you are not a member then apply to join here