Photo Gallery
Click to view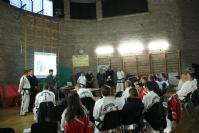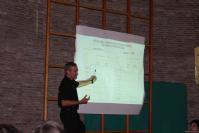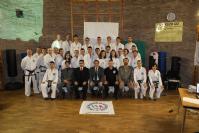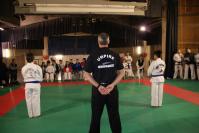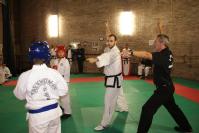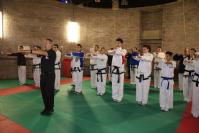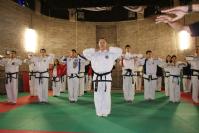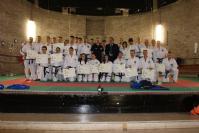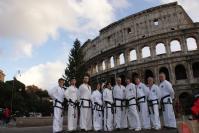 Saturday 3rd and sunday 4th December, Italian Taekwon-do Association organized an umpire course in Rome directed by Mr. Fernando Perez VI dan (President of ITF Spain and representative of tournament and umpire committee in Europe).
The event, coordinated by Mr. Luca Iannone and Ms. Silvia Farigu, counted 35 participants from Italy but also from Austria, Germany and Slovakia.
Were also present the ITA''s technical director, Master Toni Martella VII and ITF Slovakia president Master Karwandgar VII. They assisted to the course like students showing humility and demostrating we never stop to learn.
Among the guests ITF Austria President Mr. Molawizadeh V, and representing Germany, Mr. Galinski. Among the ITA officer Mr. Tolu, and Mr. Caiazzo.

Saturday afternoon the course started at 16.30 in the hall "La Salette".
After a little introduction about the guests present and the course schedule, the seminar starts with the general section about ITF tournament rules and Mr. Perez stops the attention about the 1st article and explains the importance of the criteria and the philosophy about to read and to interpret properly sections and articles of ITF tournament and umpire rules.
during the first day, Mr. Perez expalains also Pattern section supported by digital presentation .
The class is clear, beacuse of examples and analysis of real situations during a competitions and also because of the involvement of the partecipants.
The fisrt day concluded with group pictures and with a little present from Mr. Tolu to Mr. Perez and Mr. Iannone for their work.

On sunday the course starts with sparring section. When the theoretical part finished, all the students moved to another hall to practise the notions they learn during the two days.
The participants alternate and try to judge and umpire both sparring and pattern competition. Every moments Mr. Perez was ready to check and correct students work, explaining mistakes they made.
Practice is concluded with training about gestures and terminology of central umpire in sparring.

Before end, Mr. Perez spoke about special and power test and explained the main articles about.

The course ended with pictures and thanks by Mr. Perez to all the participants for their attendance and the attention. Also italian president, Mr. Tolu, thanks Mr. Perez for his work and all the participants for support the event, especially Masters.
The nice atmosphere, the involvement of students, the presence of Masters and Instructor recongnized all over the world, and of course the good work of Mr. Perez made it a successfully event.


The event was organized with the idea to increase and to uniform knowledge about tournament and umpire rules, to prepare umpires and judges to the major ITF event as World Championships in Canada 2012, European Championships in Spain and World Cup in Argentina in 2013 and so on to arrive to 2014 World championships in Italy.
The project plans to organize courses periodically so to keep and increase the knowledge and also to spread the correct criteria to work.


In the name of Italian Taekwon-Do Association, we would like to thanks.
- Mr. Iannone and his students to host the event;
- ITA''s officer to organize and manage the event;
- Mr. Perez for coming;
- Master Karwandgar and Master Martella for their attendance and to be a humble model for us;
- all the instructor and students assisted the event;
- competitors Mr. Aron and Mr. Ruben Vinci for their support during practise class;
- Mr. Mille for his work.


.................................................................................................................................................................................................................


Sabado 3 y domingo 4 diciembre, la Italian Taekwon-do Association organizo un curso de arbitraje en Roma, dirigido por el sabumnim Fernando Perez VI dan (Presidente de la ITF de España y responsable del sector arbitral en Europa).
El evento, coordinado por el sabumnim Luca Iannone y la sabumnim Silvia Farigu, conto con la participacion de 35 personas de Italia y tambien de otro paises como Austria, Eslovaquia y Alemania.
Assistieron tambien el director tecnico de la ITA el Maestro Toni Martella y el presidente de Eslovaquia, el Maestro Karwandgar. Ambos assistieron con grande humildad demonstando que siempre se sigue aprendiendo.
Entre otros, estaba presente tambien el presidente de Austria, el sabumnim Molawizadeh y el profesor Galinski de Alemania. El directivo ITA fue representado por su presidente Efisio Tolu y por el Vice Presidente el sabumnim Caiazzo.

El sabado el curso empezo puntual a la s 16,30 en la sala "La Salette".
Despues de un pequeña introduccion y presentacion de los invitados, el curso comenzo con la parte general del reglmaento de Torneo ITF y el sabumnim Perez resalto el primer articulo del reglamento, explicando la importancia del criterio y de la filosofia con la cual se redacto el reglamento y sus articulos.
Durante el primer dia, el sabumnimm Perez explico tambien la seccion correspondiente a las formas, asistido por una presentacion digital.
La clase fue muy didactica , gracias a los ejemplos y el analisis de situaciones reales en un torneo y tambien gracias a la participacion activa de los que assistieron al curso.
El primer dia termino con fotos grupales y con la entrega de una placa de reconocimiento por parte del Presidente Tolu al sabumnim Perez y al sabumnim Iannone por sus trabajos.

El domingo el curso empezo con la parte de combate. Al finalizar la teorica, los presentes cambiaron de sala para poner en practica lo aprendido.
Los alumnos se alternaron probando a ser jueces y arbitros tanto en forma como en combate. En cada momento el sabumnim Perez controlaba y corregia, explicando los errores.
La parte practica termino con la gestualidad y la terminologia de arbitro central en lucha.

Antes de terminar, el sabumnim Perez explico brevemente los puntos mas importantes sobre las roturas especiales y de poder.
El curso termino con fotos y los agradecimientos a todo los presentes y a los maestros, por parte del sabumnim Perez. Tambien el Presidente Tolu quiso agradecer el sabumnim Perez por su trabajo y todos los que assistieron por apoyar el evento.

La buena atmosfera, la participacion activa de los alumnos, la presencia de maestros e instructores reconocidos y el buen trabajo por parte del sabumnim Perez, hicieron que el evento fuera un exito.

El evento fue organizado con la idea de inalzar el nivel y uniformar el conocimento sobre el arbitraje, y asi preparar los officiales para los mayores eventos ITF como el proximo campeonato mundial en Canada 2012, el campeonato europeo en España y la copa del mundo en Argentina en el 2013, hasta llegar al campeonato del mundo en Italia 2014.
El proyecto plantea organizar cursos periodicamente para mantener un buen nivel y aumentar el conocimiento, tambien para difundir el criterio correcto de trabajo.

En nombre de la Italian Taekwon-Do Association, queremos agradecer:
_ el sabumnim Iannone y sus alumnos por acoger el evento;
- el directivo ITA por organizar y coordinar el evento;
- el sabumnim Perez por aceptar la inviatcion
- los Maestros Karwandgar y Martella por assistir;
- todos los instructores y alumnos que assistieron;
- los competidores Ruben y Aron Vinci para ayudar en la parte practica;
- el profesor Mille por su trabajo.



Written by: Italian Taekwon-Do Association - 9th December 2011
[Comments: 2]
Sorry, but you need to login to your ITF-Administration account to add feedback.
Login now, or if you are not a member then apply to join here
Article Feedback:
NAJMUDDIN SAFI (Afghan Taekwon-Do Association) : 11th December 2011, 04:11

Very productive Course! Hope Master Karwandgar can come to Afghanistan to assist us in such courses.

Taekwon,
Bob Borja (Taekwon-do Central) : 10th December 2011, 08:34


Sounds like an excellent course and experience.

Thanks for sharing with this article and photos.