Photo Gallery
Click to view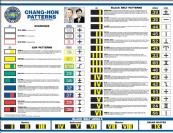 ITF Chang-Hon Patterns Poster
View all articles

Comments: 9
This ITF Chang-Hon Patterns poster was designed as a visual reference for use by International Taekwon-do Federation instructors and students. It includes the three exercises and 24 patterns recognized and practiced by the ITF.
The header features the ITF logo and an image of General Choi Hong Hi and his son, President Choi Jung Hwa. The body includes exercises and patterns highlighted in their associated belt color and accompanied by the pattern definitions, number of movements, and pattern diagrams. The bottom divides the Black Belt ranks according to their respective titles.
A printed and mounted version of this poster was presented to President Choi Jung Hwa at the IIC in Reno NV, August, 2009. Customized posters were also presented to Masters Nicholls and Master Wheatley.
A download of this poster is available at www.unitedtkdf.com/ITFpatternposter.pdf
This pdf is a gift to all of my fellow students.
In Taekwon-Do Fellowship, Vanessa Hoffpauir, V Dan, Legacy Taekwon-Do School
The poster is ready for print at the original size of 52 x 42 inches (132.08 x 101.6 centimeters). It is not recommended to enlarge or reduce by more than 50%, due to readability.
Posters may also be customized with your school''s logo to be printed, framed and shipped. For more information, please e-mail: vhoffpauir@comcast.net.
Written by: Vanessa Hoffpauir - 22nd November 2010
[Comments: 9]
Sorry, but you need to login to your ITF-Administration account to add feedback.
Login now, or if you are not a member then apply to join here
Article Feedback:
| | | |
| --- | --- | --- |
| | | |
| | William McMillin : 21st April 2011, 17:25 | |
| | | |
Greg Bowman : 8th January 2011, 09:59

I like it. Great study tool
Joanne Barwood (Australian International Taekwon Do Federation) : 2nd January 2011, 11:38

This is excellent, a great visual aid - thank you very much.
Wai Tak Choi (Pure ITF Taekwon-Do) : 2nd December 2010, 13:54

Very useful, thanks a lot, Vanessa.

Taekwon
| | | |
| --- | --- | --- |
| | | |
| | Claudio Muñiz (Marrero's Orthodox Taekwon-Do) : 29th November 2010, 00:29 | |
| | | |
Bernadette Doyle (Irish International Taekwon Do Federation) : 24th November 2010, 08:03

Thank you very much, its a great gift! and extremely useful.

John Connolly (United States ITF) : 24th November 2010, 01:07

Excellent!
Great Job
Taekwon
Christophe Galibert (AUSTRALIAN TAEKWONDO FEDERATION inc) : 24th November 2010, 00:01

Excellent concept, will certainly display this in my dojang for the benefits of all.
Great work

Michael Carr (England ITF™) : 23rd November 2010, 19:56

very thoughtful to share this, thanks
Engelbert Benitez (Federaction Venezolana de Taekwon-do ITF) : 23rd November 2010, 19:54

Excellent work very detailed and very helpful for students. Congratulations sabumnim Vanessa Hoffpauir. Thank you !!!

Bob Borja (Taekwon-do Central) : 23rd November 2010, 17:47

Hello Venessa,

Very nice poster. Colorful and a great quick reference in different ways. Truly quality work.

Also it is timely for Thanksgiving.

Thank you from my students and myself.