Photo Gallery
Click to view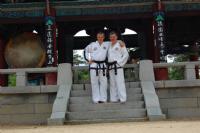 Acknoledgment to the ITF Tournament Organisation
View all articles

Comments: 7
Dear Masters, Instructors and Students of the ITF,

At the world championships I was heavy injured and I had to spent some days in a hospital and could leave Korea on July, 17th.
Today I feel really fine and I will not have any follwing problems. I need some weeks to recover completely.

I want to say thanks to the medics at the ring for their super fast help and their correct decision to take me to a hospital.
They really made a great job.

I want to say thanks to Mr. Tae Geun Rim, the doctor in the hospital who threated me well and had an "eye" on me all the the time.

I want to say thanks to Mr. Oscar Oh who was anxious about me and very helpful.

I want to say thanks to all competitors for their wishes for a speey recovery.

I want to say thanks to Master Choi and all the other Masters for their sympathy.

And at last I want to say thanks to my family for their support.

See you all in Canada

Taekwon

Olaf Braemer


Written by: Anastasia Alexandridou - 19th July 2010
[Comments: 7]
Sorry, but you need to login to your ITF-Administration account to add feedback.
Login now, or if you are not a member then apply to join here
Article Feedback:
CHAD MORISHITA (United States ITF) : 24th July 2010, 22:44

Mr. Braemer,

It's great to hear of your recovery! Excellent display of perseverance... a true representation of the spirit of Taekwon-Do! From all of us in the United States, we wish you well and hope to see you in Canada 2012.

Taekwon,
Chad Morishita
Ivano Diodati (ITF Taekwon-Do ITALIA) : 23rd July 2010, 12:15

Dear Mr. Olaf, Gute Heilung!
I hope to see you in german for your seminar in november.
Bye from Italy
Christophe Galibert (AUSTRALIAN TAEKWONDO FEDERATION inc) : 22nd July 2010, 10:01

Dear Olaf, from all the Australians present in Korea, the indomitable spirit you displayed in finishing your fight despite the injury is all it's all about!!!! Outstanding effort and taekwon, see you in Canada 2012
Chris Galibert, Coach, Australia
Christian Oriolani (International Taekwon-do Federation de España) : 21st July 2010, 20:15

Dear Olaf!

Great news.. we are happy for you. Nice to met you in korea and see you soon.

Taekwon

christian and silvia
Hennie Thijssen (ITF ROYAL DUTCH) : 21st July 2010, 12:01

Dear Olaf, It does me good to read that you're doing better. Hope you again next year to meet regularly in good health at one of the activities including those of ITF Royal Dutch in the Netherlands.

Best regards, also to the family home and your/our friends at the Taekwon-Do club in Germany.

Sincerely, also on behalf of the entire committee (Master Steve Zondag, Willem Jansen and Paul van Beersum) of ITF Royal Dutch.

Hennie Thijssen,
President ITF Royal Dutch


Jon Mackey (East Coast TKD) : 20th July 2010, 22:20

You have incredible grit sir, I watched your fight, which you finished regardless of your injury. Best wishes on your recovery.
Mark Skyrme (England ITF™) : 20th July 2010, 11:52

Hi Olaf,

Glad to hear your well on the road to recovery. Hopefully see you in October for the British Opens.