Photo Gallery
Click to view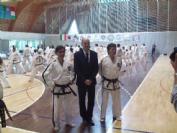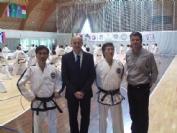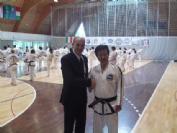 1 st Master Class Seminar in Croatia
View all articles

Comments: 1
-President of the ITF CHOI JUNG HWA IX

UMAG, CROATIA-07/08.May 2010


At 7 to 8 May 2010,1 st Master Class Seminar.
The seminar was held in Umag, Croatia.

Eighty-five participants from Austria, Afghanistan, Algeria, Bosnia, Bulgaria, Croatia, Canada, Korea, Malaysia, India, USA, Bulgaria, Czech Republic, Espana, Slovenia,Holland, Macedonia, Italy were present.
Even seven Masters stood in the first place and actively participated in Master class seminar which was personally led by our president Grandmaster Choi Jung Hwa with the assistance of Master Parm Rai
.
President Choi Jung Hwa gave a perfect seminar and everyone delighted with his performance.
08.May 2010 was held the morning practice, after which the Master Rai has performed tests for black belts for the representatives of Algeria, Bosnia and Macedonia,
After the seminar held a festive dinner at which our President Choi met with news that take place in the world of Taekwon-do.

On behalf of its members (Croatian Union of Taekwon-do Clubs) would like to thank all the organizers and staff members who have helped us to make this a great event in Croatia.
Especially our President Choi Jung Hwa, the town of Umag and the mayor of Villi Bassanese
Also we thank all of the Master, instructors and students who shared two wonderful days with us.

Best Regards,

Tomislav Đaković IV

President of the ITF-CROATIA

(MO)
Written by: Tomislav Đaković IV - 13th May 2010
[Comments: 1]
Sorry, but you need to login to your ITF-Administration account to add feedback.
Login now, or if you are not a member then apply to join here
Article Feedback:
Ace Josifoski (ITF Dojang MACEDONIA) : 20th May 2010, 12:59

Great seminar
| | | |
| --- | --- | --- |
| | | |
| | Silvia Ilieva (Bulgarian Federation of Traditional Taekwon-Do) : 15th May 2010, 07:56 | |
| | | |