Photo Gallery
Click to view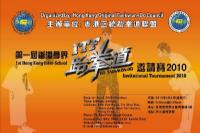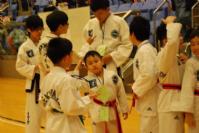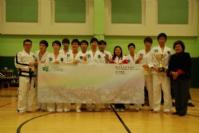 First Hong Kong Inter-School ITF Invitational Tournament 2010.
View all articles

Comments: 2
Sunday April 4th 2010, The Hong Kong Original TKD Council organized the first ever ITF Tournament for all ITF students in Hong Kong.
A total of 140 participants representing over 40 local primary ,secondary schools as well as participants from two local colleges.
Our prime aim for this particular tournament is to promote and expand ITF Taekwon-Do in to the educational facilities here in Hong Kong, letting more Hong Kong students to witness ITF Taekwon-Do in their own eyes.
The tournament participants made this event delightful to the audience with a spectacular performance.
The event was organized by the Hong Kong Original Council led by Master David Lau, and 7 member organizations: INO334, MO 356, MO360, MO369, MO385, MO387 and MO389 (ITF-China) worked together as one to made this event successful, and show the rest of the ITF world that different groups can operate and work closely together with the same goal in harmony.
A selection of the Hong Kong ITF team was also performed in the same day; we now have an official Hong Kong ITF Team for any future ITF events worldwide.
More information about our Hong Kong Council click here.
We are also on Face Book our name "Hong Kong Original Taekwon-Do Council"
Taekwon
Written by: The Hong Kong Original Council - 9th April 2010
[Comments: 2]
Sorry, but you need to login to your ITF-Administration account to add feedback.
Login now, or if you are not a member then apply to join here
Article Feedback:
Jon Mackey (East Coast TKD) : 9th April 2010, 15:49

Great work by all! Well done.
KING CHUNG LI (.) : 9th April 2010, 11:58

The 1st Hong Kong Inter-school invitational Tournament has been held at Tin Shui Wai Sport Centre on April 4. I would like to express my appreciation for Mr. David Lau, Mr. Dante Poon, Mr. Yu Man Chung, Mr. Raymond Cheung and Mr. Kelvin Choi for arranging this wonderful event for the ITF Taekwon-do lover in Hong Kong.

As a competitor, I really enjoyed the element of the tournament. I believe our technique will have a great improvement after each competition. Especially this time, there was the black belt competition. I think this event can help each of us in either technique or spirit. I have the pleasure to compete with the elite black belt in pattern. There are Mr. Bruce Kwan, Mr. Lam Man Chun, Mr. Chung Lai Yi, Mr. Derek Ma, Mr. William Lam, Mr. Alfred Leung and Mr. Sheik Cheung. Each of them is good in technique and great in style. I cannot move my eyes elsewhere when they are performing the pattern.

I am looking forward for more local competition for black belt in the future and I would like to see more fellows from each club in HKTKDC join us to improve our technique together.

Taekwon
King Li