Photo Gallery
Click to view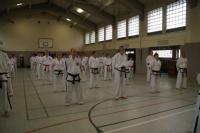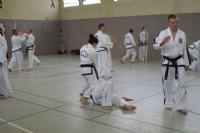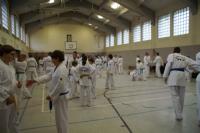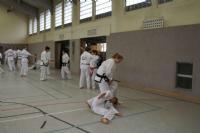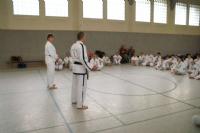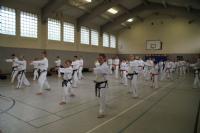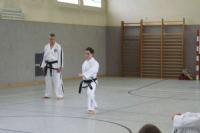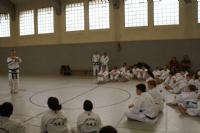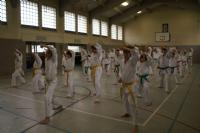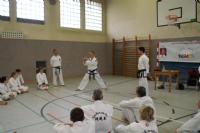 First Taekwon-Do Seminar of Taekwon-Do Deutschland e.V.
View all articles

Comments: 1
The first Seminar of Taekwon-Do Deutschland e.V. MO#363 was a big sucess for this young association. About 47 Practitioners came to get lessons in Self Defense and Tul. The Seminar was led by Mr. Olaf Braemer VI. Degree. At exactly 10.00hrs the
seminar began with a minute of silence for the passed President of ITF Bulgaria, Mr Todor Todorov.
Then, after a intensive warming up, Mr. Braemer went straight into Self Defense. The goal was to defend the attacker with a
harmonic movement instead power. To use the body mass with a harmonic movement is the key to defend a attacker who is
stronger then the defender. A lot of the participants were surprised how powerfull those harmless looking movements can be.
They got time to practise the lessons and to ask questions. And after the "basics", some examples of an attacker with a stick were
shown.
After approximately two hours of Self Defense a short break was made. After the break it was time to continue with Tul and
Techniques.
The sine wave was the first theme, and after a short explanation and after some training all the practitioners who had problems
before made very good progress.
Mr Braemer said: In Taekwon-Do, there are no secrets. It''s only training and a good instructor.
Only with the Tul Chon Ji and Dan Gun all the basics for giving a good presention of a Tul were done.
Then, the group was split into two, Colored belts and Black Belts. The group of Black Belts were trained up to Moon Moo.
At 16.00hrs the seminar was finished.

Special thanks goes to the participants who came in that great number and to Taekwon-Do Deutschland e.V. as the host of the
seminar.


Written by: Anastasia Alexandridou - 14th October 2009
[Comments: 1]
Sorry, but you need to login to your ITF-Administration account to add feedback.
Login now, or if you are not a member then apply to join here
Article Feedback:
Bob Borja (Taekwon-do Central) : 16th October 2009, 08:35

Nice to-the-point article. Good pictures. Harmonic movements instead of power in self-defense is an interesting concept; especially effective for small-built people. Congratulations to Taekwon-Do Deutschland e.V. on its first seminar and a job well done. Always good to see an organization's leader leading. See you at the International Open German Taekwon-Do Championships, 28 November.