Photo Gallery
Click to view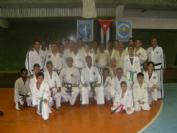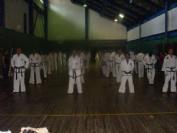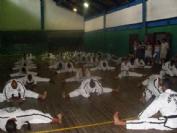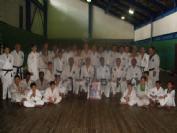 On August, 27th was the arrival of Master Parm Rai to the International Airport José Martí in Cuba, at 12pm. That same day at 5pm Master Rai was starting a training class for a group of black belts. Among the black belts receiving this class was Julián Reina Sánchez, president of the Cuban ITF. The class lasted two and a half hours. At the end of the class, athletes were sweating, but with the will of keep going, the class had been a significant one.
Next morning, at 10am, another training class took place, this time a harder and more demanding one. After 2 hours approximately the class was dismissed, and all Taekwon-do athletes had a few minutes to relax before the grading. Then the grading for the black belts started. During it, Master Rai, besides of the technical requirements, asked some questions as well, and with each answer he amplified the answer for everyone to enlarge their knowledge about Taekwon-do Philosophy and History, then the ones been tested weren't the only ones learning but everybody else in the room as well.
This was a special grading for Cuba as Mr. Reina was called to test himself for 7th Degree Black belt. Mr. Reina performed patterns, and an amazing display of self defence and theory.
Master Rai was also interview by the Cuban Television, in which interview he expressed all the accomplished by the Cuban ITF hand his will to help them. He explained the true leadership under Master Choi Jung Hwa and how he continues the legacy of his late father, the founder of Taekwon-Do, Gen. Choi Hong Hi.
Master Rai's visit, left a mark in all Cuban Taekwon-do athletes, whom enthusiasm increased after the wonderful experience of the training and grading. Now they will start to train harder for a possible world championship to come.
Written by: ITF Cuba - 2nd September 2009

Sorry, but you need to login to your ITF-Administration account to add feedback.
Login now, or if you are not a member then apply to join here