Photo Gallery
Click to view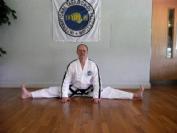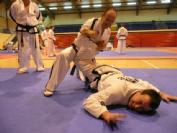 ITF Ireland hosted a number of work shops under the instruction of Irish Taekwon-Do Pioneer Master Norman Creedon. Master Norman Creedon has had a long and distinguished history in the art of Taekwon-Do. Indeed, most of the current instructors and students practising Taekwon-Do in the south of Ireland today, can trace their lineage back to Master Creedon. He began his training in the early 1970's under grandmaster Rhee Ki Ha who introduced Taekwon-Do to the UK and Ireland. Through diligent study he quickly promoted to black belt, testing under the founder Gen Choi Hong Hi, Master Rhee Ki Ha and Master Kim Jong Chan. In 2008 Master Creedon conducted two work shops for ITF Ireland and also taught a series of sessions for the Taekwon-Do Alliance group. Master Creedon explained that when he first started his training, it was very different to what it is now. "Back then, we learned a very traditional art through very traditional teaching methods. Very little was explained, just hours of constant repetition, technique drilling and heavy contact sparring. The safety equipment everyone takes for granted nowadays, wasn't invented yet. Not surprisingly, the drop off rate was very high. Fortunately nowadays we have modern equipment and a more scientific approach with which the student s can develop and reach their potential much more rapidly."
Master Creedon spent a considerable amount of time with the teaching of Ho Sin Sul (self defence) in the work shops, an area which he feels has been neglected by many of the younger Taekwon-Do instructors. According to Master Creedon "I am privileged to be a member of the International Taekwon-Do Federation under the son of the founder of Taekwon-Do -President Choi Jung Hwa. Our INO has organised great events in 2008 such as the IIC with President, Choi, the ITF Umpire/Referee Course under Master Galarraga, the International Irish Championships and numerous Masterclasses from fantastic instructors such as Master Maidana. We are working together with freedom and harmony and 2009 will be another amazing year." As well as being an outstanding competitor, Master Creedon is also known for being a superb instructor. His seminars being highly sought after, he has taught classes throughout his native country Ireland, as well as the United Kingdom and United States. He is a prolific writer and his articles on the various aspects of Korean arts have featured in numerous martial arts magazines, including Irish Fighter, TaekwonDo and Korean Martial Arts, Taekwon-Do Times and United States TaekwonDo journal. Throughout his career, he has coached numerous students to national and international titles. As a competitor, Master Creedon has won numerous national titles in sparring, tul, and breaking competition. In 1978 he was a member of the Irish team which participated in the 2nd ITF world championships which were held in Oklahoma City, USA, that same year he graduated from the ITF instructor's class in Scotland. He was also a member of the Irish team that competed in the ITF European championships in London, England in 1980 and was again chosen as a team member to compete in the 3rd world championships in Argentina in 1981, but declined due to illness in his family.
ITF Ireland President Master Don Dalton said "Master Creedon is one of the true Irish Taekwon-Do Pioneers. His fantastic technique is famous and he has truly dedicated his life to his beloved art. We are very lucky in ITF Ireland to have such a quality martial artist in our midst and it has been extremely beneficial for all our members. Taekwon-Do in Ireland is famous for fragmentation, disputes and division. We are now showing that this does not have to be the case. It is because of people like Master Creedon that Irish Taekwon-Do will continue to prosper in the years ahead."
Written by: Master Dalton - 26th February 2009

Sorry, but you need to login to your ITF-Administration account to add feedback.
Login now, or if you are not a member then apply to join here