Photo Gallery
Click to view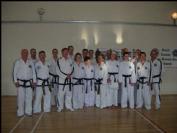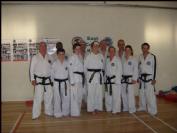 "Eight is great" at Eireann ITF
For the eighth time in eight years, eighth degree black belt, Master Robert Wheatley visited Newtown Mount Kennedy, County Wicklow, to chair a Black Belt Grading followed by a Technical Seminar. Students from several clubs affiliated to Eireann ITF (INO 300) were tested by Master Wheatley and a panel made up of the following senior Black Belts;


Mr. Henry O''Neill, VI, Arklow TKD


Mr. Jimmy Dowling, V, Tullow TKD




Mr. Chris McCabe, IV and Mr. Mick Whelan, IV, both from East Coast TKD
In total, 14 students took to the floor on 13 September seeking promotion; 6 going for 1st Degree, 3 for 2nd Degree, 4 for 3rd Degree and Mr. Vincent Hogan who tested for 4th Degree. Family and friends gave the students great encouragement and support as they were put through their paces for almost three hours. Each student demonstrated their skill and techniques from Fundamental movements and Patterns through Sparring and Ho Sin Sul (self-defense) to Theory and Destruction. Mr Hogan''s power break of a 4 inch concrete block with a Side Piercing Kick was particularly impressive.
Following a short lunch break, Master Wheatley hosted an intensive Seminar which was attended by over seventy students of all ranks and ages from different E-ITF clubs covering Dublin, Bray, Arklow, Gorey, Tullow and Cork. Senior representatives included Mr. Kevin O''Sullivan, V, Mr. Trevor Fradgley,IV, Mr. Ruairi O''Brien, IV and Mr.Liam Corkery, III. We were very pleased to also have in attendance four of Master Issac Harry''s students from the UK, including Mr. Marcus Gelder, V.
Master Wheatley took us through some of the technical aspects of Taekwon Do, explaining their purpose and demonstrating their execution. He took particular care to explain the importance of sine wave, hip-twist, breath-control and timing as the key elements in generating powerful movements. He focused on the need to invest time in practicing the fundamental movements, which are the cornerstone of Taekwon Do. By properly executing the basics, students lay the foundations for achieving the highest standards in our martial art. Master Wheatley spent time on the often over-looked art of Dodging which is a vital and effective skill for both sparring and self-defense. He also shared with us The Composition and Cycle of Taekwon Do which details the key elements that, when properly practiced, differentiate Taekwon Do from other martial arts. They include: Fundamental Exercises, Patterns, Sparring, Dallyon (maintenance or conditioning of self) and self-defense. At the end of the Seminar, the International Instructors (IV degree and above) took up stations around the hall to give short mini-clinics on specific techniques, patterns and self-defense. All in all, the Seminar was extremely informative and delivered in a very positive manner.
Before closing the event, Master Wheatley confirmed the decision of the Testing Panel to promote all 14 students who graded. On behalf of E-ITF, Mr. Whelan, thanked Master Wheatley and guests for their time and support to Taekwon Do in Ireland by sharing their great knowledge with us.
The students from the grading earlier in the day enjoyed a well deserved celebration dinner that evening with Master Wheatley, family and TKD friends.
E-ITF Promotions, 13 September 2008.
Mr. V Hogan, IV Ms. L Cremen, III Mr. K Whelan, II Ms T O''Brien, I
Mr. L Doyle, III Mr. S Cannon, II Ms C Hogan, I
Ms. J Field, III Mr. E Murphy, II Mr. J Browne, I
Mr. A Yeates, III Mr. B O''Brien, I
Mr. P Farrell, I
Mr. P Mudzongo, I
Written by: Adrian Yeates - 25th September 2008

Sorry, but you need to login to your ITF-Administration account to add feedback.
Login now, or if you are not a member then apply to join here