Photo Gallery
Click to view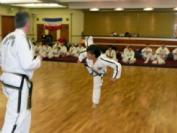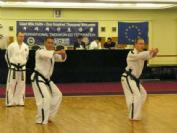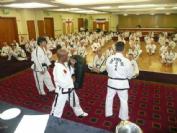 President Choi IIC in Ireland
View all articles

Comments: 1
This was to be the second International Instructors course with Master Choi in Cork and the excitement was palpable. Organized by Mrs. Patricia Dalton to an incredible degree of finesse from an exceptionally fine hotel at a very reasonable cost to a wonderful banquet and probably three of the most exciting days we have ever spent. As soon as Master Choi entered the room you could feel his presence and the excitement building. One of the first things we learned was to pay our respects to the founder General Choi Hong Hi, his father, and the founder of Taekwon-Do : we did this by the simple act of performing a silent bow. He is without a doubt one of the most humble men I have ever met and yet he is someone of incredible stature and importance. For me he is the living embodiment of what it means to be a true martial artist. There is no-one on this planet who has more knowledge on the art of Taekwon-Do. His ability to produce power and grace from nothing is a constant source of amazement. President Choi`s use of humour and stories of his childhood served to put us at our ease. He was assisted by ITF Ireland President, Master Dalton, as well as numerous international masters. They walked among us making corrections and giving assistance in a relaxed and friendly manner. Prior to any physical training President Choi talked about the real meaning of "Do" in Taekwon-Do - the moral code. This is a subject very close to Master Choi''''s heart. He stressed that as students of Taekwon-Do we must strive to be good human beings, and question every action we carry out, ensuring that we are always selfless, caring and above all honest with ourselves. Honesty he pointed out, is one the most important traits any human being can have. Through honesty, comes integrity. As instructors, he mentioned that above all we must strive to be honest with our students, remembering that some so-called Taekwon-Do instructors are only interested in ripping off their students and running Taekwon-business as opposes to Taekwon-Do, these people have no place in our family. The physical training kicked off and by 9.30pm we had covered both exercises Saju Magki and Saju Jirugi, as well as Chon Ji, Dan Gun, Do san and touching on Won Hyo. Soon it was 9.30 and we had run over time without realising it because we were so absorbed in what we were doing - we were having too much fun.
Day two started at 10am with a warm-up conducted by Master Harry, who is always smiling and clearly loves what he does. Master Choi again talked about the Do, and how easy it is to practice TaeKwon but how difficult it is to practice TaeKwon-Do. He told us we must try to bring the Do into our everyday lives and become true Martial Artists. He told us he found it difficult himself because of his humanity and his human failings but he tried to start each day and do his best to observe the tenets of TaeKwon-Do. We completed Tul Won Hyo to Toi Gye and did work on the turning kick. The attention to detail and finesse was incredible. Again we finished a little over time because we were all so focused on what we were learning and enjoying the experience. Later that evening we attended a banquet and celebrated the 42nd anniversary of the I.T.F. - we even had a birthday cake complete with candles. Master Nicholls arrived and spoke to us about the importance of the etiquette, apologising for his lateness due to flight delays and again he praised Mr and Mrs Dalton for their excellent and considerable work in organising the I.I.C. Several presentations were made to all the visiting Masters and Master Choi was presented with a beautiful hand crafted vase.
He expressed his happiness that TaeKwon-Do was one of the fastest growing and most popular Martial Arts and how he felt at last we were fulfilling his father's wishes by spreading the Art throughout the world. We all sang Happy Birthday to the I.T.F. and Master Choi blew out the candles on the cake which was ceremonially cut by Master Choi, Master Nicholls, Master Wheatley and Mrs. and Master Dalton. The evening ended on a high note with the presentation of the I.U.T.F. competitor of the year awards, with Eimear Curran getting junior competitor of the year, Ms. Moira Mc Elligot taking senior female competitor and Mr Fitzgibbon taking senior male for the second year running.
Day three started at 10am and we got straight into it (after Master Choi introduced Master Lee Won Il, one of the pioneering ITF Masters who is featured through out the Ho Sin Sul section of the 1972 encyclopedia. We then continued with Toi Gye and moving on to the three first degree Tul. We completed all three covering all the minutiae - chambering, trajectory, development of power, sine wave. Master Choi stressed that Tul should be elegant and beautiful as well as powerful and precise. They should look nice, have grace and nice lines, and that by combining power and technique with elegance and grace we can achieve this. We worked on the back kick in some detail, with the point being made that if you turn the body too much it becomes a back side kick and not a back kick. All of a sudden it was all over and Master Choi commented that felt so welcome that he didn't want to leave.
He seemed genuinely sad to have to finish up and said he was having too much fun - I think we all were. Then Master Lee Won Il addressed us in Korean, which Master Choi translated for us, and delivered a rousing and touching speech. He said how watching us made him want to go get his Dobok and join in. He brought many people close to tears with his deep praise for President Choi and left us all feeling renewed. The whole weekend left us all feeling a regenerated love of what it is we do and teach, a new sense of purpose and enthusiasm for the Art and a desire to be better not just at Taekwon-do but to be better people all round. Master Choi and Master Lee Won Il posed for photos with each group and finally departed the dojang leaving us with a sense of loss and a desire to do it all again at the next available chance. The next day I learned that President Choi had promoted our President Mr. Dalton to Master. He referred to him as the Jewel in the I.T.F. crown. There is no harder working or more deserving person – Congratulations Sir - we are all very proud of you.
Written by: Ms. Sandra Doyle - 4th September 2008
[Comments: 1]
Sorry, but you need to login to your ITF-Administration account to add feedback.
Login now, or if you are not a member then apply to join here
Article Feedback:
Christophe Galibert (AUSTRALIAN TAEKWONDO FEDERATION inc) : 5th September 2008, 03:19

President Choi Jung Hwa is undoubtfully the true ITF leader. I enjoyed the 6 II Courses I had the opportunity to train under his guidance, and am certainly looking forward to the next one.
Chris Galibert