Photo Gallery
Click to view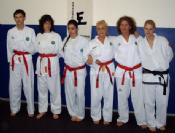 Successful Grading to 1st. DAN in Darios TKD School
View all articles

Comments: 1
Successful Grading to 1st. DAN in Darios TKD School, Gladbeck, Germany
After 6 1/2 hrs. hard examining by Examiner Dario Fimiani (4th.DAN) in theory, technique, fight and power test: from left to right:

Burkhard Espey 1. Kup,
Talitha Kunze 1.Dan
Merve Gülec 1. Dan National Team
Ursula Kraft 1. Dan
Karola Kilian1. Dan
Daughter Kim Kilian assisted.
Convincing efforts, especially demonstrated in skill by Karola Kilian 50 years, Power Test with 3 boards 3,5 cm thick and Ursula Kraft, 65 years with an abundant knowledge of theory of Taekwondo that would astound many.
Written by: Jürgen Kariger - 2nd June 2008
[Comments: 1]
Sorry, but you need to login to your ITF-Administration account to add feedback.
Login now, or if you are not a member then apply to join here
Article Feedback:
Dario Fimiani (ITF - NAG President Dario Fimiani bei Kraft) : 2nd June 2008, 20:28

Super gut,war ein harter Job