Photo Gallery
Click to view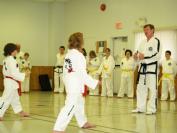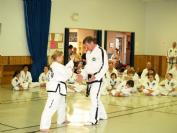 Master Robert Wheatley Seminar
View all articles

Comments: 1
On Saturday, May 17, 2008, Orion Taekwondo hosted Master Robert Wheatley in a one day-long seminar. The event was attended by students from all across Western Canada. Prior to the seminar, on Friday evening, Master Wheatley conducted a high Dan grading for two eligible candidates. The two participants were put through a challenging examination as they performed all patterns, demonstrated multiple step sparrings, showed self-defence techniques, and demonstrated their power by breaking boards. After completing the various tasks handed to them, the two testing candidates were awarded their next levels. Mr. Kevin McMillan was awarded his IV degree black belt and Mr. Bruce Csanyi was awarded his III degree.
Saturday morning, promptly at 9:00 AM, the highly anticipated seminar began with an introduction of the Master and his assistants followed by a brief warm up. The warm up was followed by a highly detailed analysis of the basic stances. The emphasis placed on the stances was to ensure that the maximum power and balance can be achieved through their execution. After the in-depth lesson, the participants applied the newly learned skills into the fundamental exercises and basic patterns.
During the afternoon session the participants moved on to the higher belt patterns; further utilizing their newly acquired skills. Not only did Master Wheatley teach efficiently, he also involved several of the younger children in the demonstrations. To conclude the events of the day, Master Wheatley demonstrated his superior board breaking skill to the students in attendance. Master Wheatley's remarkable and energetic approach to the art of Taekwondo resulted in new knowledge in regards to stance, sparring, breaking and patterns.
Upon completion of the seminar, the students were given certificates that recognize their participation and they were also given an official seminar poster. Many of the students had Master Wheatley sign the poster for them to forever remind them of the event; an event which will not be forgotten soon.
All of the participants eagerly await the next event with Master Wheatley.
Written by: Orion Taekwondo - 21st May 2008
[Comments: 1]
Sorry, but you need to login to your ITF-Administration account to add feedback.
Login now, or if you are not a member then apply to join here
Article Feedback:
Brennan Mason (Orion Family Martial Arts MO) : 23rd May 2008, 07:33

We learned so much in this seminar too bad it couldn't have been longer!
Christophe Galibert (AUSTRALIAN TAEKWONDO FEDERATION inc) : 22nd May 2008, 01:25

Master Wheatley's knowledge is second to none. We can't wait to see him in Australia this year.
Michael Munyon (United States ITF) : 21st May 2008, 20:39

Master Wheatley's seminars are always top-notch. Thanks for sharing.
Bob Borja (Taekwon-do Central) : 21st May 2008, 13:16

Thank you for sharing this nice article.