ITF Tournament Committee meeting in Zaragoza, Spain, March 20, 2009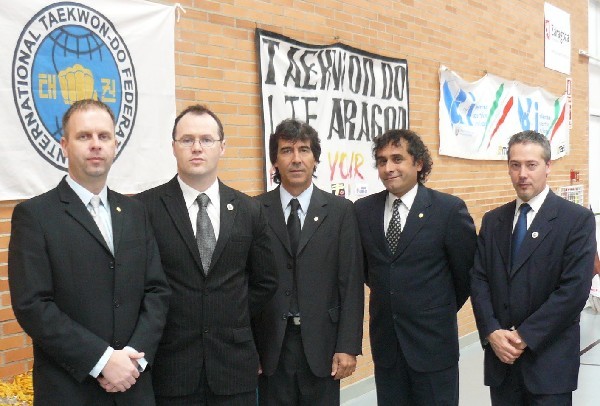 Left to Right: Mr Skyrme, Master Dalton, Master Galarraga, Master Maidana, Mr Perez
Master Nestor Galarraga recently travelled to Spain to conduct a meeting of the ITF Tournament Committee. In attendance were Master Maidana, Master Dalton, Mr Skyrme, Mr Perez and Mr McCabe. The meeting was extensive and lasted over five hours. The specific topics covered included.
The announcement of the ITF Worldwide Tournament Committee; this committee will be composed by members of the five Continents.

ITF Regional Tournament Committees. The regions will be The Americas, Europe, Asia, Africa and Oceania.

The ITF Regional Tournament Committees will appoint Sub Committees. These Sub Committees will consist of the regionīs leading jury presidents, referees and judges. These sub committees will also be responsible for such areas as sponsorship and media promotion. The ITF Tournament Committee is now asking every national organisation to nominate appropriate individuals for these Sub Committees. The larger countries may nominate more than one Class A Umpire. Please email all nominations to Master Jose Maidana

The ITF tournaments were classified in to the following:
Official tournaments:

Only for ITF members registered with Nationals Organisations.

ITF World Championships
ITF Open World Cup
ITF Continental Championships (European, Pan American, etc.)


National tournaments:

National Championships (OPEN)
Tournament Selections or Selection Series (ITF Members ONLY)
International Championships (OPEN)

Note: Tournament Selections must be notified in advance to the ITF.
Open National and International Championships will not be Sanctioned by the ITF.

Approval for the Implementation for the new ITF electronic scoring system was given. This process will be overseen by Mr Mark Skyrme. Organisations interested in a trial should contact

Mr Skyrme

directly.
ITF Regional Tournament Committees formed were as follows:
ITF Tournament & Umpire Committee Chairman:
Master Nestor Galarraga
ARGENTINA ARG-8-1000

Europe:
Master Don Dalton.
IRELAND IRL-7-1001
Mr. Mark Skyrme
ENGLAND GBR-6-1009
Mr. Fernando Perez.
SPAIN ESP-6-1000

Oceania:
Master Michael Muleta.
AUSTRALIA AUS-7-1002

Americas:
Master Jose Maidana.
ARGENTINA ARG-7-1004
Mr. Chris Reid.
CANADA CAN-6-1005
Mr. Edimir Kawakubo.
BRAZIL BRA-5-1001

Asia:
Africa:
Next ITF Tournament committee meeting has been scheduled for June 2009 in England.