Grand Master Lee Won ll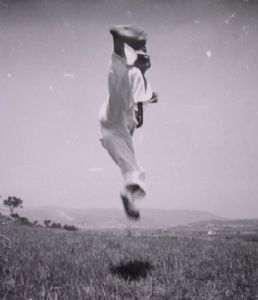 The date of Sep. 8. 2008 as well as the activities of International Taekwondo Federation developing day by day and the meaningful participation in the World Taekwondo Festival & Korea Classic Open 2008 held on July 10, which worldwide Teakwondo mans expected, will be recorded on a page of ITF history, and lots of news casting kept reporting about ITF due to President Choi Jung Hwa 's return to South Korea in the morning of the same day. As soon as he arrived at Incheon Airport of Korea, ITF students of Chung buk University's greetings and the interview with reporters went ahead. The news about ITF and President Choi reported specially in Jung Ang daily newspapers and the union newspapers, particularly showed the past, the present and the future of ITF.
This time, President Choi's visitation to South Korea became the foundation for sake of developing the route of ITF, and was lighting up an ardent hope to the members of nations throughout the world. It was a meaningful news to provide the nourishing power and the grounds We have a thankful person who secretly the current chance of communication to take the leading role. He is very Dr. Oscar Oh, Chairman of the Organizing Comittee, who gave lots of contribution to 10th World Taekwondo Festival & Korea Classic Open 2008, and currently, he is the chief drector Chung Cheong University, Korea, and has a strong passion for the development of school education and Taekwondo. Therefore, I hope to give words of encouragement to Trevor Nicholls, Sec. Gen. ITF and Oh Chang Jin , Sec. Gen. ITF Korea about active cooperation as a senior of ITF, traditional Taekwondo.
Current ITF President Choi's visitation to his homeland was a wise and fearless decision in complicated disruption.
He proved the faith ITF to raised up his position as the head. ITF was born in Korea as the history of Taekwondo proved, and we expect that he would came back to his homeland to solve a heavy burden carefully as a promising hero to lead ITF with the brighter prospect than before. He is expected to consider trifles as important things and to build lots of contribution through practicing from trifles. It is a long-cherished desire, a new task, and a given responsibility. As the saying is, it is more difficult for a farmer to spread out his waste than to bend his waste. Time is needed for recovery, and the whole things in the world are likely to be composed by the reward to efforts.
I can remember an founder, the deceased. He devoted his life to the spread of Taekwondo. When thinking the past remembrance that I was directly trained by an originator wearing a suit saturated with sweat, I used to look back on him. He was very delicate. Training hand techniques, foot techniques, and the concentration and the speed of power, I learned many movements in theory and in practice. When he was 80 years old, his strong posture without bending was not different from the his past general days. He constantly seems to love you, ITF Members in heaven. The reward of it is only to learn ITF techniques more without negligence to train ourselves through mental training ,not material presents. .
Fortunately, Choi Jung Hwa G. Master, a traditional Martial Master, a general's son, and an originator's son is agree with true ITF Member throughout the world, wearing a suit of uniform, sweating profusely, training you as doing his best. I hope that you would be excellent fruits of ITF through training techniques from him ..
IŽd like to express my heartfelt thanks to members for hearing me with great interest, and I wish for your families' harmony and health. Finally, I hope to spend the rest of my life with ITF Members far from me, but actually, around me
November 20, 2008
INTERNATIONAL TAEKWON-DO FEDERATION
Grand Master LEE WON IL