Photo Gallery
Click to view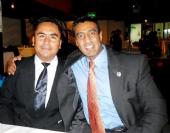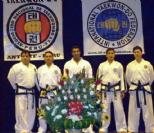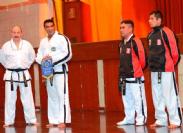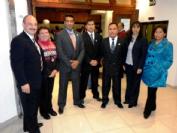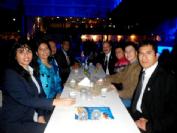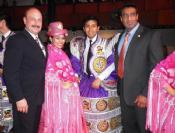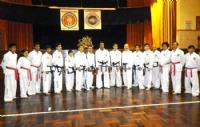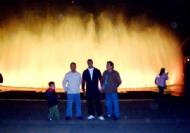 2nd Master Class Seminar in Peru - Master Rai
View all articles

Comments: 2
Master Rai landed in Lima - Peru after a long flight accompanied by Mr Gustavo Noriega his assist as translator for the event. At 3 am they were greeted by Mr. Travi (president of the INO 255) and Mr. Rodolfo Morante Wan (International Affairs) to take them to their respective accommodations.
The next day at noon was schedule grade testing for fifth degree for Mr. Travi and Mr. Avila. The test went on for about 3 hours and included Patterns, Sparring, breaking and theory, and they performed all. They would get the results the next day at the seminar.
That night, master Rai was invited by the INO Peru to a dinner and artistic show, of camaraderie between The Master and Senior instructors in the principal culture club of Peru (Brisas del Titicaca), with typical Peruvian dances from the three regions of Peru, Coast, mountain and Jungle. organized by the comitee of the INO (Mrs Jesebel Romero)

The next day the seminar started on time at 9:30 am, was supported with participants from Peru and Canada. At this time Master Rai awarded the promotion to Mr. Travi and to Mr. Avila to Fifth Degree.
On behalf of President Choi Jung Hwa .

Master Rai presented Mr. Travi the achievement Award for his continued work in Peru, promoting and teaching Taekwon-Do.
Among the group attendees we found students from 9 th kup up to 5 degree. The eight hours seminar included topics such as fundamentals, sign wave, the development of power, and patterns.

After the

seminar

Master

Rai

visited

one of the main

attractions of

Lima

(the

magic

water

park

) and was invited

to dinner

by the instructor

Carlessi

Cotrina

.

The next day

M

r

Avila

and Mr

Travi

accompanied

master

Rai

to visit

Peru''''s

Government Palace

, the

Congress

of the Republic,

the

historical

Museum

Castle Andres and the

historic center of

Lima on Monday-night Master Rai returned to Canada

We would like to thank Master Parm Rai for making this long trip and sharing a wealth of knowledge with all of us and for taking time out from his busy schedule.

Master Rai gave a perfect seminar and everyone delighted with his techniqures performance.and for anyone who has the opportunity to attend a Seminar conducted by Master Rai, we highly recommend it,thank you to Mr Gustavo Noriega for his vital support as a translator at the seminar

.

We are grateful to Master Choi Jung Hwa and Master Parm Rai for their continued support to the spread of Taekwon-do ITF in Peru.




Thank you all for participating,they made this event a true success in Peru.

Written by: ANT ITF PERU - 21st July 2011
[Comments: 2]
Sorry, but you need to login to your ITF-Administration account to add feedback.
Login now, or if you are not a member then apply to join here
Article Feedback:
GUSTAVO NORIEGA (Canadian Elite Taekwon-Do) : 6th December 2011, 20:00

Very good even with the language barrier.
Bob Borja (Taekwon-do Central) : 22nd July 2011, 12:58


Thanks for taking the time to report on this special seminar by Master Rai. All the best in the future for your organization.