Photo Gallery
Click to view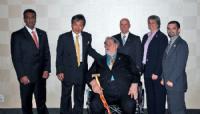 International Instructor Course in Alaska, USA
View all articles

Comments: 1
"Taekwon-do is not to harm, it is to make us healthy," said President Choi Jung Hwa at the International Instructor Course held in Fairbanks, Alaska from June 10 to June 12, 2011. Nothing could be truer as students, instructors and masters alike kicked, punched and learned together under the direction of President Choi Jung Hwa and Master Parm Rai. Masters John Tompkins, Suzan Crochet and William Howard were also in attendance.
Nearly 100 participants from across the country attended including students from "Midnight Sun Martial Arts" in Alaska, "National Taekwon-do" in Kansas, "Elite Taekwon-do" in Missouri, "Global Taekwon-do" and "Guardian Taekwon-do" from Texas and "Orion's Belt Taekwon-do" in Alaska. Students reviewed patterns vigorously and listened intently to President Choi's Taekwon-do philosophy. Some of the patterns students enjoyed most were Ko-Dang, Eui-Am, and Kwang-Gae. Motion and foot movement were discussed in detail along with how to use one's entire body to generate power.
The International Instructor Course was an invaluable opportunity for Taekwon-do practitioners to receive instruction straight from President Choi Jung Hwa. President Choi and the other Masters walked the floor to help and correct students as they trained. Participants were also afforded the opportunity to demonstrate each pattern in front of the entire group, showing everything they had learned while President Choi thoroughly corrected any mistakes and pointed out students' strong points. Masters Parm Rai, Suzan Crochet and William Howard performed Tong-Il, a performance highlight of the weekend.
The course went off without a hitch thanks to outstanding organization by Mr. Jeff Hurben. He provided excellent accommodations and hospitality and was complimented by President Choi himself on a well-run event. Any one of the participants would say the training was tough, but definitely well worth it. "It is like six months of training in three days," said Master Parm Rai. The International Instructor Course in Alaska was a rare chance to train under top-notch instructors President Choi Jung Hwa and his assistant Master Parm Rai. Much fun was had and much knowledge was gained and everyone is looking forward to the next International Instructor Course
Written by: Matt Lepley - 21st June 2011
[Comments: 1]
Sorry, but you need to login to your ITF-Administration account to add feedback.
Login now, or if you are not a member then apply to join here
Article Feedback:
John Carnahan (United States ITF) : 9th July 2011, 20:39

A very well run and thoroughly enjoyable event! Thanks for the training and the workout...until the next one!
| | | |
| --- | --- | --- |
| | | |
| | Andrzej Jankowski (Polish Taekwon-Do ITF Association) : 27th June 2011, 19:24 | |
| | | |